TRAP
---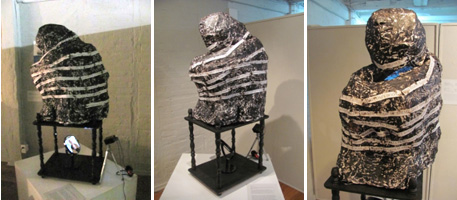 There is a text wrapping this figure excerpted from newspaper accounts of a 1946 lynching in rural Georgia (see text below). While this quadruple murder continues to attract national media attention, its investigation has lead substantially nowhere, and the case remains unsolved.

This AV work is complementary to the text, composed from a clip of Uncle Remus from Disney's SOUTH OF THE SOUTH, a film released in the same year the lynch occurred. As you will note, the audio portion has been recombined, both layering the clip's sonic components as well as altering its linear pattern.

This sculpture was made for Uncle Remus Redux: Contemporary Visions of How Time Goes by Turns, an exhibition commemorating Black History Month at the GCCA Gallery in Catskill, NY.

TRAP text:

"ON THE NIGHT OF JULY 25, 1946, IN MONROE, GEORGIA, A GROUP OF ARMED MEN PULLED TWO AFRICAN-AMERICAN COUPLES - ROGER MALCOLM AND HIS PREGNANT WIFE DOROTHY AND GEORGE AND MAE MURRAY DORSEY - OUT OF FARMER LOY HARRISON'S CAR AT A BRIDGE, TIED THEM TO TREES AND SHOT THEM IN THREE VOLLEYS OF BULLETS SO MANY TIMES THEIR BODIES WERE BARELY RECOGNIZABLE. HARRISON WAS DRIVING THEM TOWARD HIS FARM ACROSS MOORE'S FORD BRIDGE, A DIRECTION INVESTIGATORS NOTED WAS NOT THE MOST DIRECT ROUTE TO HIS FARM. AT THE BRIDGE, HARRISON'S CAR WAS BLOCKED BY ANOTHER VEHICLE AND A GROUP OF MEN - DESCRIBED IN VARIOUS ACCOUNTS AS "AT LEAST A DOZEN" AND "FROM 20 TO 25" OR "UP TO 30" ARMED MEN. THE MEN DRAGGED THE MALCOMS AND THE DORSEYS FROM THE CAR THEN BEAT AND SHOT THE TWO MEN. REALIZING THAT THE TWO WOMEN COULD IDENTIFY SOME OF THEM, THEY THEN SHOT AND KILLED THE TWO WOMEN, ACCORDING TO PREVIOUS INVESTIGATIONS. ONE OF THE LYNCHING MOB PULLED OUT A KNIFE AND CUT THE UNBORN CHILD FROM DOROTHY MALCOM'S BODY. PRESIDENT HARRY TRUMAN SENT THE FBI TO THE AREA TO INVESTIGATE, BUT THE AGENTS WERE MET WITH A WALL OF SILENCE."